Tours Near Page, AZ
Page, Arizona is the hub and home base for tours of some of the most iconic American Southwest attractions, adventures, and sightseeing. People who are familliar with all there is do to near Page know that Page is a jumping off point for what is called The Grand Circle. The Grand Circle consists of nearly a dozen national parks and monuments including the Grand Canyon, Zion National Park, Bryce Canyon, and Monument Valley to name a few. Because there are so many world renown natural wonders in this one corner of the United States, tour operators often offer combination tours that can cover multiple national parks and monuments.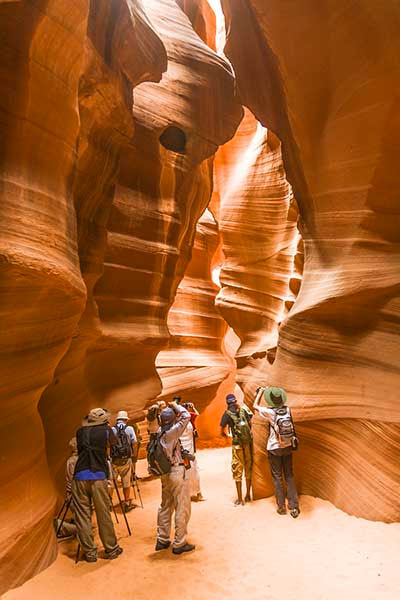 Visitors of Page can easily find tours to Horseshoe Bend, Antelope Canyon, Grand Canyon and Glen Canyon Dam. River trips down the Colorado River through the Grand Canyon also put in at Lee's Ferry, located just a few miles away from Page. Please take note that there are points of interest that can be seen without a tour guide or permit such as Horseshoe Bend; others like Antelope Canyon require hiring a tour guide. Antelope Canyon is part of the Navajo Nation, and some of the tour companies that are operated by Navajos have access to parts of the canyon that non-Navajo tours don't. This means visitors can visit Antelope Canyon with fewer crowds and have more time to take it to this very special place.
Besides the attractions themselves, there are different ways in which one can interact with these amazing geological formations. There are air, horse, boat, and hiking tours available in addition to shuttles and bus tours. Take a look at some of these tours to get the most out of your time here.
---
RECOMMENDED TOURS FROM PAGE, AZ
---
---
---
---
---
---
---
---
---
---
---
---
---
---
---
---
---
---
---
---
---
---
---
---
---
---
---
---
---
---
---
---
---