Zion National Park Hotels & Camping
Zion National Park is about 104 miles from Page, in the bordering state of Utah. There are several Zion hotels and resorts that you can choose from located just along the entrance of the park itself in Springdale, but you could also stay in La Verkin, Hurricane, or even St.George. La Verkin is about 20 miles from Zion, Hurricane is about 23 miles from Zion, and St. George is about 40 miles from Zion. Hotels in Springdale will be more pricey than in La Verkin or Hurricane because of its close proximity to Zion National Park. In fact, Zion National Park Shuttle has nine stops in the town of Springdale.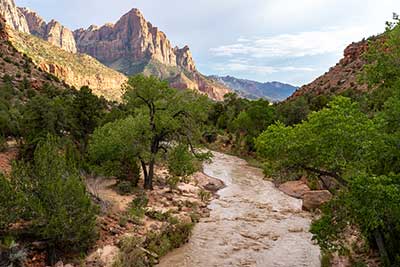 The Springdale Shuttle will take visitors to the park's Pedestrian Entrance near the Zion Canyon Visitor Center then visitors may get on and off as often as they like free of charge. For guests wanting the most logistically simple way of exploring the park, it is highly recommended that you get a hotel in Springdale. La Verkin and Hurricane are the easiest on the pocketbook and you can expect to find familiar brand hotels and motels in these areas, as well as some boutique resorts and vacation homes. But St. George will be your spot if you're looking for a little more luxury in your accommodations.
Camping
South Campground
Individual sites: $20/night
Group sites: $50/night
Watchman Campground
Individual sites (reservable): $20–30/night
Group sites (reservable): $50–130/night depending on group size
---
---
Recommended Zion NP Hotels
---
---
---
---