Slot Canyons near Page, AZ
Page and the rest of the Grand Circle have some of the very best slot canyon adventures in the American Southwest. Slot canyons are high-walled, narrow canyons that were formed by water rushing through cracks and other weaknesses in the rock. Over millions of years, the cracks grow larger though erosion caused by repeat flash floods, rainstorms, and snowmelt resulting in these beautiful canyons that can be explored by hiking, rock scrambling, and technical canyoneering. Slot canyons vary in width and typically have winding turns and beautifully scalloped walls. Especially here in the Southwest. Depending on the time of year, you may need to wade in the water or even swim through portions of the canyon that have held onto the water after rainstorms or snowmelt.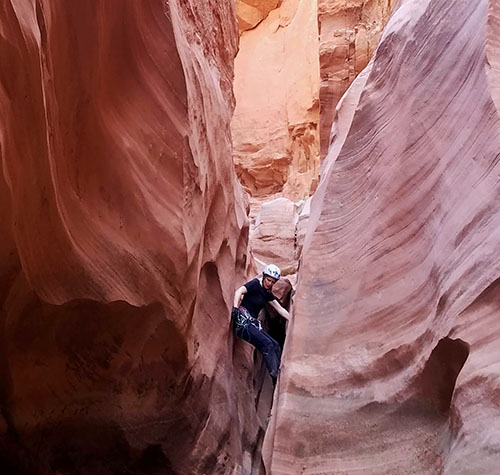 It is incredibly important to check the weather before entering a slot canyon. It is not uncommon for flash floods to kill hikers. If there is rain anywhere in or around the area of the slot canyon you want to explore, do not enter the slot canyon.
---
Slot Canyon Adventures in the Southwest
---
---
---
---
---