Glen Canyon Dam Tours
Glen Canyon Damn located just outside of Page is one of the largest and most important dams in the United States. The 710-foot (220 m) high dam was built by the U.S. Bureau of Reclamation (USBR) from 1956 to 1966 and forms Lake Powell, one of the largest man-made reservoirs in the U.S. with a capacity of 27 million acre-feet (33 km3). The dam is named for Glen Canyon, a series of deep sandstone gorges now flooded by the reservoir. The dam helps ensure an equitable distribution of water between the states of the Upper Colorado River Basin (Colorado, Wyoming, and most of New Mexico and Utah) and the Lower Basin (California, Nevada, and most of Arizona).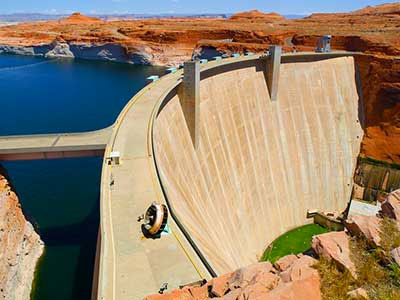 During years of drought, Glen Canyon guarantees water delivery to the Lower Basin states, without the need for rationing in the Upper Basin. Glen Canyon Dam has been a focus of environmental controversy for nearly 100 years. Between the environmental impacts of flooding Glen Canyon (now Lake Powell), the environmental changes to the Grand Canyon, and the increased demand for this water in growing cities and states, Glen Canyon Dam and its overall benefit continues to be under scrutiny. This dam has a long and complicated history with unforeseen effects and demands. Going on a Glen Canyon Dam tour will be an informative and enlightening experience that is sure to resonate with those who care about climate change, growing resource demands, and environmental chains of events.
---
See Glen Canyon on a Guided Tour
---
---
---
---