3 Best Day Trips from Page, AZ
Page, AZ is known for many iconic things such as being a cultural mainstay of the Navajo Nation, home to the picturesque Antelope Canyon, and houseboating at Lake Powell. But there is even more to this little desert town than what meets the eye. There are multiple day trip options for those who have already seen the big hitters and still have a few days to kill, or for those who want to go a little more off the beaten path. We took a look at the top three options that appeal to adults looking for adventure, families with kids, and options that can also include your furry friends. From water sports to hiking, there's something here for everyone.
Kayak Antelope Canyon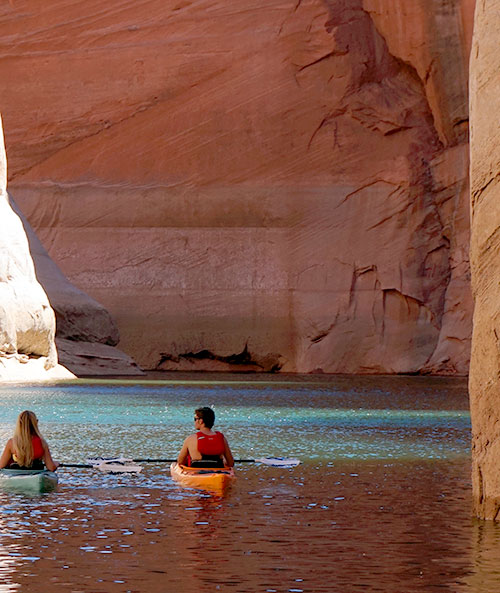 Walking through antelope canyon is amazing in itself. With the light beams and isolated peace, you get the feeling that you are walking through time. But did you know you can kayak, paddle board or pack raft into the canyon from Lake Powell? Set an entire day aside for this because you will definitely want to appreciate every moment of this special experience. Don't forget to bring snacks and a waterproof camera so you can get some amazing shots. Start at Antelope Point Marina and Visitor Center, which is just north of the famous Antelope Canyon tours on Rd 222, just east of Page. There is a small fee to get into the area ($30/car) but if you've already paid for a Glen Canyon National Recreation Park fee within 7 days, that will cover the cost. Here, you can rent your own kayak, jet ski, or even house-boat then head out onto the lake. Kayaks are recommended the most because they allow you to get into the tight spots high up in the canyon. A full day rental for a 1-person kayak will run you about $45 while a jet ski will put you back about $375. If you get the jet ski, keep in mind that there are age limits of 18+ and you have to watch a 35 minute safety video before you can head out. So plan accordingly if you are on a tight time table. You'll launch right from the marina and will want to paddle west until the canyon naturally turns south. Once you hit the end of the canyon, where it starts to turn take the first left, you will be in Antelope Canyon. From there it is an easy paddle to the very back of the canyon. Have your camera ready for some beautiful photos.
Simply paddle back when you've have had your fill and grab a beer and a burger at the marina restaurant to top off the day. If you have your own paddle board or kayak, you can launch it at the Antelope Point Launch Ramp but be aware that due to lower water levels, you will have to haul it down a short embankment to get to the water. Absolutely no boats can launch from this boat ramp, so bear that in mind. If you really want to put in a boat to go up the canyon, put in at Wahweap Marina and please be careful of paddlers!
Float Horseshoe Bend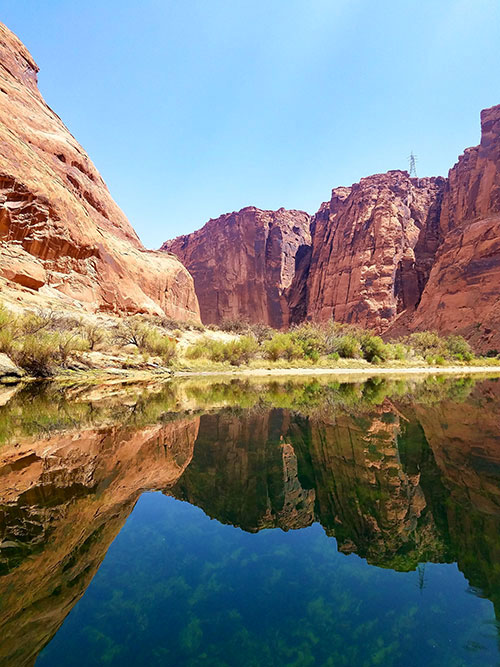 If you want to see one of Page's most popular attractions from a new perspective, then you will definitely want to float the Colorado River from Glen Canyon Dam to Lees Ferry. This is an all day affair that will require an ice chest of beer and liberal amounts of sunscreen. You won't be sorry choosing to embark on this day trip. The easiest way to do this trip is to go through Kayak The Colorado, a Page based business that rents out kayaks, inflatable rafts, and standup paddle boards that will allow you to take them on the river and not just on Lake Powell. There are two main ways that you can go about getting to Glen Canyon Dam: you can either paddle upstream for a monster cardio workout and then float down; or you can backhaul up to the dam and then float (and drink) your way back to Lees Ferry. If you plan on taking your own boat up river, lease check on Arizona's motor regulations for this area as they may be updating their standards. Backhauling is now a permit-required, but Kayak The Colorado also provides this for a nominal fee of $150 for a single rider or $80 per person for groups of 2 or more. If you feel like making friends and doing it the local way however, people with boats at Lees Ferry might willing to backhaul you in exchange for a couple of high quality brews and a friendly chat. Once you are up to the dam, make sure that you do not cross the safety line to try to go up to the dam, the government does not appreciate that. Just enjoy the float down! You'll go through Horseshoe Bend (look for all the onlookers on the edge of the canyon and wave! You'll be in their vacation photos!) and end up right back at Lees Ferry with some great memories and hopefully a great tan. Did we mention that some of the best fishing in Arizona is on this portion of the Colorado River? If you like to fish, get a fishing license, read up on the rules for bait and hooks, and get ready to wrangle some of the Southwest's finest! If you don't fish, the best way to spend the day is by alternating floating and hanging out on the beach at different intervals; so pack a lunch and have one of the best views while you snack. Just please pack out all your trash so that everyone else can enjoy it too!
Bonus: Camping: If you'd like to make this a camping trip, there are several designated camping spots along the Colorado River on this float trip. Please be respectful only camp in designated campsites. These campsites often have composting toilets and fire rings! Honestly, there's nothing quite like sleeping at the the bottom of the Canyon. It will certainly be an adventure of a lifetime.
Toadstool Hoodoo Hike
If you need a break from the water and want to explore some of the amazing desert that Page has to offer, check out this kid and dog-friendly, not to mention free, hike. Known as an amazing, and somewhat rare, rock formation, Toadstool Hoodoo's are large spires of rocks that have a larger rock on top, making them look like giant mushrooms. Think Alice in Wonderland of the Southwest. Situated 31 miles north-west of Page, or 12 miles west of Big Water, depending where you start, this hike is easy enough for kids but interesting enough for any adult or angst-filled teenager. Head west on Highway 89 and enter into Utah territory and just past Cottonwood Canyon Rd. There will be a small turnoff on the right as the highway starts to turn and go downhill. It is a very small turnoff with no real signs so you might have to turn around and double-back if you pass it.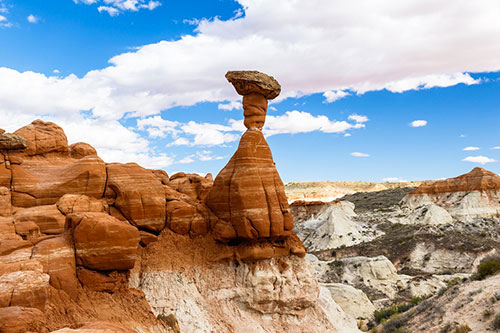 The trailhead has a sign with a map of Grand Staircase-Escalante National Monument (which you now officially are in) and some information about the area. Head out onto the trail (it's only 1.5 miles round trip) and follow the creek bed until you see the first of the Toadstool Hoodoos. There are a few around the main area, but if you head west past the largest of the red hoodoos, the trail will continue on and drop down into a small valley that has tons of little white Toadstool Hoodoos! Check out the colors of the Paria River Valley from up top if you don't feel like going down into the valley and enjoy the southwest sunshine as you hike back out on the same trail. Keep in mind that the heat and temperatures will soar during midday in the summer, so bring plenty of water with you and a hat on this hike (there are no water sources nearby). And please don't climb on the hoodoos!